All about Gary 'Guitar' Nunn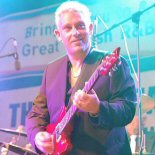 Gary 'Guitar' Nunn. Guitar and Vocals.
I started learning to play guitar when I was about 10 years old. My father played the guitar and was always sitting in the front room playing Shadows songs and I thought I can do that. I borrowed an Acoustic guitar from my friend and sat in my bedroom all day until I could play Apache by The Shadows. After that I started learning everything I listened to, even adverts on the tv.
Over the next few I years I played in a couple of bands, whilst learning how to play other instruments. I learnt how to play the piano, some of the brass instruments and a little bit of drums.
In about 1984 I was in a local band called Stratus when I had to switch to bass guitar as our bass player couldn't make a gig and we didn't know any others but we knew a guitarist. That was me a bass player for the next few years playing in several bands including Mod Cons ( a popular local band in the 80's).
I gave up music for a few years from the late 80's to the mid 90's but it called me back. I went back onto guitar and started playing in local bands again. I was mainly into rock then and played in a band called Twist Of Fate. During this time I got to play with people like Phil Hilborne, some of the guys from Iron Maiden and Whitesnake. This was also about the time I did some gigs with The Martells up until they split up.
While The Martells were apart I played in various parts of the world with Adam Faiths band The Roulettes, The Andre de Moller Band, Eclipse and more recently Just Blues.
When I'm not out gigging with The Martells, I teach guitar. If anybody would like lessons then you can contact me via email: garyguitarnunn@gmail.com or telephone: 01473684582
Guitars
Brian Moore i21.13p - Turquoise
Brian Moore iGuitar9.13p - Purpleburst
Musicman John Petrucci Signature Tokai Silverstar - Sunburst
Gibson Les Paul Studio - Black ESP George Lynch Signature Micheal Kelly Singlecut - Honeyburst PRS SE Singlecut - Cherry
WhiteStar 335 - Honey Burst
Crafter Convoy - Cherry Burst
Brahner Electro Acoustic - Natural
Amplifiers
Carvin V3m
Vox 2x12 cab
with Celestion Vintage 30 speakers
Pedal Board

TC Electronics G System
Roland GR-33 Guitar Synth
Ibanez TS-9 Tubescreamer
Dunlop Crybaby Wah Pedal
Morley ABC Box
DB DI Box
Samson Airline UHF Wireless System

Gary uses Ernie Ball strings in either 10, 11 or 12 gauge depending on the guitar.
Leads are custom made using Neutrik Connectors.