All about The Martells and equipment used
History of The Martells.
The Martells were first formed in 1965. Jack Jacobs (Lead Guitar), Roy Williams (Drums) and Spike Hayward (Bass) were with Dave Curtis and the Tremors which disbanded in 1965. They then quickly met up with brother and sister, Rod and Carolyn Braddy and became Rod & Carolyn and The Tremors. Within a few weeks they got a contract with Decca Records who suggested they change their name, so The Martells was chosen. They released a double A side single 'Time to say Goodnight' and 'The Cherry Song'. Just prior to the single being released Spike left and Rod took over Bass duties. During this time a keyboard player called Martin Croxford stood in for Carolyn a few times. In 1970 Roy left and was replaced on Drums by Jonny Peggs. In 1972 he then left and was replaced by Sandy Sutherland.
They decided they needed another guitarist as Carolyn was not able to do all of the gigs so Merv Perry joined and this line up lasted the longest of them all. Jack left for a little while and was replaced firstly by Dave Parnell and then Rex Seeley. A little while later Rod and Carolyn left so Jimmy Dodds then took over on Bass.
The old line up of Rod, Carolyn, Jack, Merv and Sandy got back together for a reunion gig at The Westcliff Theatre with Jimmy Pilgrim and The Classics, and they carried on for about 2 years.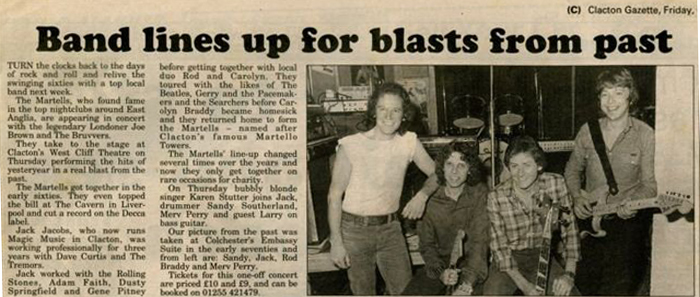 Rod, Carolyn and Merv then left, so Jack and Sandy got Rod Frost into the fold, on Bass, Keyboards and Vocals. This line-up lasted until 2001 when they all decided to call it a day. In 2002 Jack retired to sunny Spain and is still performing in a duo called Mister Sister.
During 2008, Sandy and Rod were doing some stand-in work with a guitarist called Gary Nunn. They decided to do something together and Sandy suggested trying to reform The Martells. Several of the ex-members were contacted but unfortunately were unable to join, so Sandy, Gary and Rod restarted the next chapter as a 3 piece.
After about 6 months Rod unfortunately had a very bad heart attack and was unable to perform for some time. He is fine now and currently playing in a band called Roddy and The Rejects. Alec Robinson (vocals/keyboard) and Jon Wright (vocal/bass) came into the band but unfortunately, Alec's work commitments meant he was unable to continue. A replacement was found in the guise of Peter Wolfe. Gary and Sandy had worked with Pete in Just Blues.
Charles Rickards (vocals/bass) was drafted into The Martells during 2010 when Jon Wright's family commitments became too much. Charles then took over the main vocal duty when Peter Wolfe left earlier this year bringing The Martells back to a 3 piece once again, continuing to go from strength to strength.
It is April 2013 and The Martells find themselves in that predicament of finding new members. Enter stage right Ivan Fegen and Tony Shillingford. Ivan has joined as Lead Singer/ Guitarist. Previously he was with The Roulettes, Voodoo Child and The Jaywalkers. He has an excellent voice and some great guitar skills. Tony recently was with Time Out, an excellent rock band. His sound is awesome and helps drive the band along. Charles has decided to pursue other interests and we wish him the best of luck and hope he does well.
August 2015 and the band is proving to be as popular as ever, but unfortunately Tony has to leavethe band due to family and work commitments. Our new bass player is Bob Stiff. He has previously played with Dreamthief and A saucerful of Floyd to name but a few. He is an excellent musician and will be a great asset to the band. We wish Tony all the best for the future.
November 2017 and more changes are happening. Bob Stiff has moved onto other things. We wish him well in whatever he does. His replacement is our old friend and ex-Martell, Tony Shillingford. We are looking forward to working with him again.
The PA System
Mixers
Presonus StudioLive 16.4.2 AI
Peavey FX16
Mackie SR24-4
Amplifiers
QSC PLX 3602 (3600watts) x 2 (Bose)
QSC PLX 3402 (3400watts) x 2 (Bins)
QSC PLX 2402 (2400watts) x 2 (Foldback)
Speakers
Bose 802 x 16 (4 for Foldback)
Bose F1 Subwoofer x 2
Custom Design 2 x 18 Bass Bins x 4
Effects
TC Electronic M300 x 3
Bose Panaray Controller x 2

Microphones
The Martells use AKG microphones for vocals and drums,
and Shure for guitars